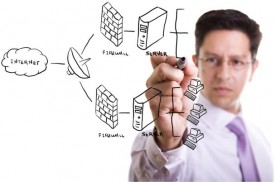 Protect your computer network from security breaches
Ask yourself the following questions:
Are you worried whether your network (and the data it holds) is truly protected from hackers, viruses, and other data-erasing disasters? Are you equipped and prepared in case of computer network failure? What would happen if you lost some or all of your data unexpectedly?
Do you have frequent slows or crashes?
How often do you have to reboot a computer?
Do you have persistent or slower than usual Internet access?
Safeguarding your IT infrustructure against cyber intrusions is an integral part of our proactive services.
Computer Help Los Angeles will:
Optimize each computer to gain maximum performance and keep them optimized
Establish and install a hardware firewall as a first layer of protection against hackers and other intruders who can destroy or erase your files or steal your identity
Perform security patch management and regularly update software and operating systems
Install and maintain effective multy-layer anti-malware software
Establish and maintain an effective backup system and routine to protect against catastrophic data loss
Routinely inspect all network security and maintenain systems to ensure their continued integrity
Testimonials
"Monthly Network Security & Support Via Remote Access"
"We manage thirty-four low-income senior housing HUD projects in Southern California, nineteen of which are in Los Angeles, Orange, Riverside, and San Bernardino counties.
"We first contracted with Computer Help Los Angeles in 2006 to maintain the computers used by the management staff at each building. Because they were to be responsible for any viral infections or breaches that might occur, we received very explicit instructions as to how each computer network would be configured and maintained. Computer Help Los Angeles assessed the existing computers and set up a hardware firewall at each location, then began monthly maintenance via remote access.
"We also use the services of Computer Help Los Angeles in our 15-person office here in Pasadena, where they refined our Microsoft network and added a firewall and file server. We now have a simpler set up, and thus, fewer troubles.
"Computer technicians are a crucial need these days, so it's nice to feel confident in the one you choose."
Anne Lohr
Falkenberg/Gilliam & Associates, Inc.